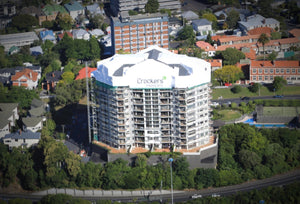 North Shore Scaffolding was chosen by Canam Construction to provide the scaffolding on Phoenix Gardens Apartments in March 2019.

This 12-story residential building reaches 44 meters at its highest point, and it had tenants still occupying the apartments as work was undertaken to replace windows, gutters, and cladding. 
Due to the unique shape of the apartment building the scaffold was built in 11 different sections, which were linked ten floors up, using trusses and cantilevers. As requested by the client, this was then shrink-wrapped to give safe, dry and full access to the top two floors. North Shore Scaffolding provided the solution to this technically difficult brief in a safe, efficient and tidy manner.
This iconic Central Auckland building has some unique design features, which required equally unique solutions. These included:
The main building at ground level is a podium set above a basement car park, which required Allround Heavy Duty Propping, to allow access for heavy vehicle deliveries to the site. The small footprint of the Allround Heavy Duty Propping allowed the car park to remain in use for the duration of the project.

The scaffolding built on the podium needed to be as lightweight as possible to eliminate the need for propping in the basement. Thanks to the superior engineering of the Allround Heavy Duty Propping, minimal components were required, thus reducing the weight of the scaffold.

Two large gable sections of the upper floors are all glass, so therefore the shrink-wrapped scaffold could not be 'tied' to the building.  Due to North Shore Scaffoldings' experience on large buildings in high wind zones, we were able to solve this issue with some clever engineering and outside the box thinking; including utilizing a rooftop deck area for horizontal propping.

Installation of one of North Shore Scaffolding's Geda Hoists. In this case, a Geda 1200 material and personnel hoist was used, which has a weight carrying capacity of 1500 kg. This hoist played a vital part in erecting and dismantling the scaffold, and also provided safe access for all trades and their required materials to their work areas.
The use of North Shore Scaffolding's Geda 1200 Material & Personnel hoist and Layher Allround Scaffolding equipment played a vital part in this project being completed on time. These systems, coupled with North Shore Scaffolding's experienced team of scaffolders, whose attitude to safety, efficiency, and professionalism impressed both client and tenants alike.
North Shore Scaffolding used the following resources for this project:
Please contact us for more information.