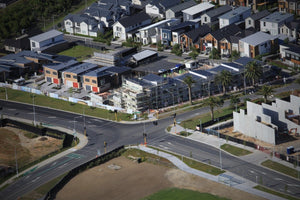 North Shore Scaffolding has been providing scaffolding for Universal Homes for over 30 years. The relationship with our client plays a vital part in the success of homes such as the ones at Hobsonville Point being completed in a safe and efficient manner, and on time.
Due to the tight building schedules allocated in the residential sector, there are huge demands on scaffolding being completed on time. As residential builds like these are progressing, we are always one step ahead of other trades to have the scaffold built before there is any risk of a fall.
With the use of North Shore Scaffolding's Layher All Round System, we provide safe access to all trades on-site; supplying heavy-duty loading bays, access platforms over retaining walls, bridges over trench work, aluminium mobile scaffolds, internal stair scaffolds, lower roof scaffolds, and roof edge protection to name just a few.
All scaffolds are built with the use of advanced guardrails, which means that not even the scaffolders are on a live edge during install and dismantling, lowering the risk for all.
Due to these building sites being residential, and thus often close to roadsides and the public, debris netting and/or gantry walkways are also often provided.
Residential projects like the one at Hobsonville Point are ongoing all around the Auckland region and North Shore Scaffolding's detailed planning ensures that all site workers' wellbeing comes first, while high productivity is continuously achieved.
North Shore Scaffolding used the following resources for this project:
Heavy Duty Loading Bays

Health & Safety Systems
Please contact us for more information.